Initially released in July 2017 with the Save the World game mode, Fortnite was quick to adopt the battle royale formula that contributed to the success of PUBG. As early as September 2017, the free-to-play game mode won over players and the popularity of Epic Games' title has only climbed to new heights in terms of player numbers, with over 250 million followers after two years of activity. Today, the game is considered a cultural phenomenon that has touched much of the world's population and continues to attract players with its various collaborations.
A VIDEO GAME PHENOMENON IMBUED WITH POP CULTURE
Among the most notable partnerships, we note above all the appearance of skins drawn from the universes of Marvel , DC Comics , and Star Wars , such as the Avengers, the X-Men, the Justice League, the Teen Titans, and many Jedi and Sith. Of course, Fortnite does not deny its colleagues from the video game world, and players have been able to take advantage of skins bearing the image of Kratos from God of War (2018) , Lara Croft in the reboot version of Tomb Raider , Aloy from Horizon: Zero Dawn , and more recently skins featuring Vi and Jinx from the series adapted from the League of Legends universe , Arcane.
With all that, it's hard not to take out your wallet to take on the appearance of your favorite character. But have you ever wondered how much you invested in skins and V-Bucks to achieve this goal? Here's how to find out:
HOW TO KNOW HOW MUCH MONEY YOU HAVE SPENT IN FORTNITE
Unfortunately, Epic Games does not have an integrated system to track Fortnite spending , so you will have to be patient to carry out the maneuvers to get an idea of ​​​​the money invested, especially if you play battle royale. for several years. If you are curious and want to know how much you have spent in Fortnite, we have two methods for you:
Method 1
The first method is to comb through transactions made through the Epic Games Store . To do this, start by logging into Epic's site and accessing your Account . Then go to the Transactions tab , and there you'll find all the purchases you've made on the Store, including any free games you've claimed. From there, you should be able to track down the various V-Bucks and skin packs you've purchased for Fortnite , but be aware that you might spend some time there, especially if you're a battle royale veteran.
Method 2
The second method is undoubtedly simpler, since it allows you to directly find the price of the skins you have purchased in Fortnite . By going through the fortnite.gg site , you will have access to the complete catalog of cosmetics distributed in the battle royale so far, as well as their purchase price . With this tool, you will only have to create an account for free to add all the items you have to your " locker " or locker, and the system will add the sum of each outfit to obtain a total in V-Bucks . This done, all you have to do is convert the V-Bucks into euros,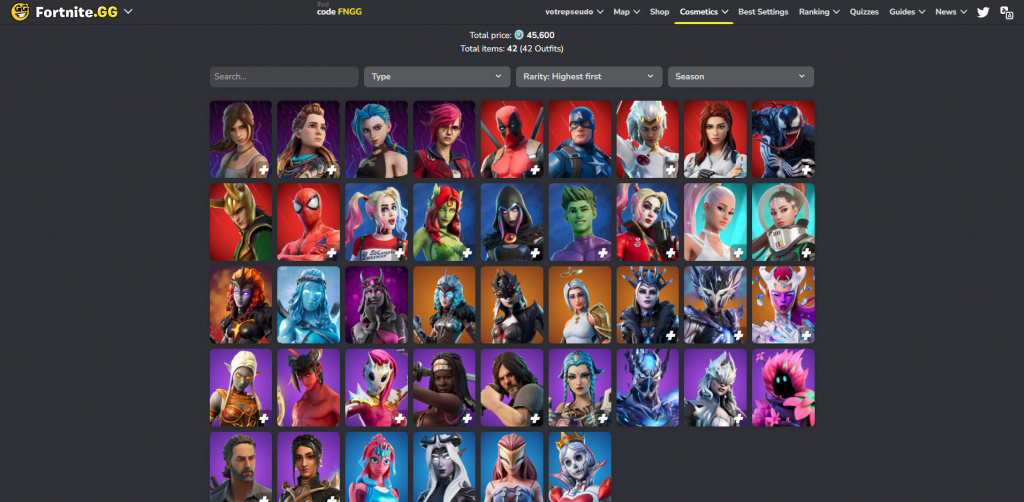 Of course, you can combine the two proposed methods by searching for the keyword " V-Bucks " in your transactions linked to the Epic Games Store to find all your purchases of virtual currency, and filling your locker with skins. the fortnite.gg website . Once the two totals are added together, you can either congratulate yourself on your detention or cry for your lost money!