XBOX FAN THROUGH AND THROUGH
Fashion seems to have interfered in the sector of the Tenth Art this Thursday, March 3 : just now, we learned that Gran Turismo 7 , famous PlayStation exclusive, was associated with a famous brand of streetwear for developing a clothing collection and even a car skin. Microsoft then followed suit thanks to an original collaboration with… OPI.
Today the world leader in nail polish, the OPI brand is therefore working hand in hand with Microsoft for an unusual feature: a dozen new nail polishes inspired by the gaming industry. Here are the twelve shades concerned:
Quest for Quartz — A rose quartz that will lead you to victory.
Pixel Dust — A bright mauve to add more pixels to your life.
Racing for Pinks* — A soft pink for getting into the laps.
Suzi is My Avatar* — A natural pink for ever more power.
Trading Paint* — An apricot color to cross the finish line.
Heart and Con-soul — A brilliant purple to take your nails to the next level.
The Pass is Always Greener — Never lose a match(a) again with this pastel green.
Sage Simulation — Immerse yourself in simulation with this bright sage green.
You Had Me at Halo — Brilliant galactic blue for equally brilliant stats.
Can't CTRL Me* — A glowing pale blue for holding CTRL.
Achievement Unlocked* — Unlock a color world optimized for lilac.
N00berry* — Boost your nails with this deep purple.
You can find these nail polishes at retailers such as Bleu Libellule, Pro Duo, Nocibé, Galeries Lafayette, Sephora, Monoprix, Beauty Coiffure, Pascal Coste, MyOrigins, Place des Tendances and in institutes.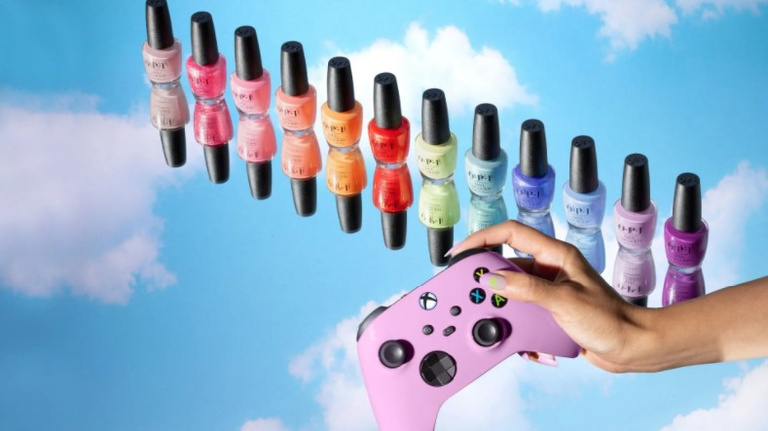 THREE NEW XBOX X OPI CONTROLLERS FOR THE OCCASION
Microsoft is a great regular at variations of controllers and consoles, it's no secret and besides, it does it frankly well. This partnership with OPI is therefore an opportunity for the manufacturer to offer three new shades for the famous Xbox pads - Achievement Unlocked, Can't CTRL Me and Racing for Pinks - i.e. blue, pink and purple colors with a unique gloss appearance.
And since we are talking about playing, know that in some stores, the purchase of varnishes will unlock special content for Halo Infinite and Forza Horizon 5 , namely new skins. A partnership that allows Xbox to speak to all segments of its customer base, and even reach new people.