Halo Infinite, Fortnite, Call of Duty, Valorant. There are many games that have adopted the Battle Pass model. And one of the most anticipated FPS of the next few years could follow suit.
A Battle Pass system for Overwatch 2?
Overwatch might succumb to one of the trends in modern online gaming. Expected since 2019, the sequel to Blizzard's hit FPS will reach another major milestone. After an alpha reserved only for professional players and developers, the game will be approached by part of the general public on April 26 with its first closed beta. The opportunity to discover the changes brought by Overwatch 2 , new maps, new characters and more.
If the interest of Blizzard is above all to test its servers, and to ensure that the balancing and the redesign of the known people are correct, the editor will be able to collect the opinion of the players on the new mechanics. And one of them could have revealed itself in an artwork by Jayson Kirby. The artist who worked on the user interface of Overwatch games until 2020 has shared some of his works on Artstation. And on one of the images, we can see that a Battle Pass is in preparation.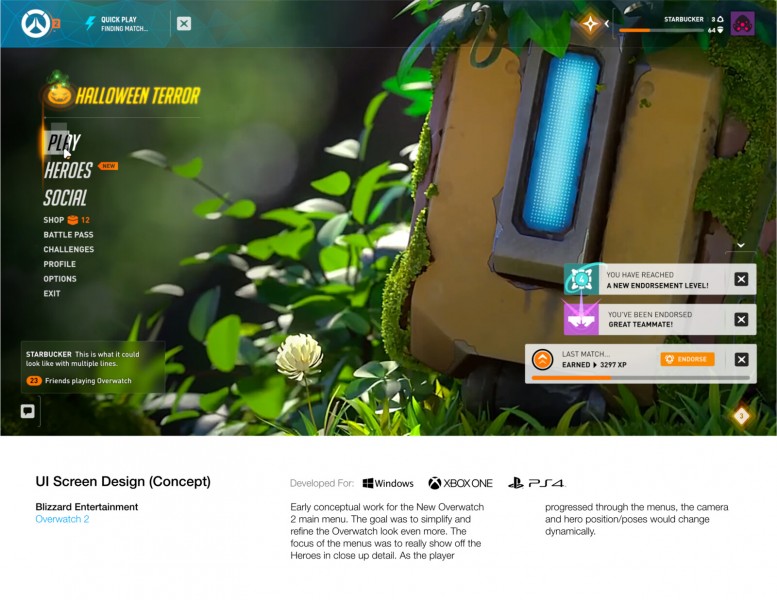 Paid Battle Pass or not? The question remains
More concretely, we see Bastion or one of its congeners, the list of accessible menus, unlocked rewards and above all a "Battle Pass" line below the store. Something to suggest that Blizzard will follow suit and adopt this formula in Overwatch 2. Remember that it is above all akin to a modern monetization mechanism, but which in most cases does not necessarily require checkout. The feature is primarily used to reward players for their loyalty with new items, skins and other items that can only be unlocked during the current season.
Currently, Overwatch offers a system that comes close to this from time to time. For example, for the current Anniversary Remix event, players can earn a series of character rewards each week. All you have to do is play a certain number of games, or even less if you win, to unlock them. It remains to be seen how the publisher wants to implement this new mechanic in Overwatch 2, at least if it makes it to the final game. The concept art in question dates back to 2020 at the latest and the interface, like their content, may have changed in the meantime. However, the image in question mentions challenges and rewards for playing a quick game. It will be necessary to wait for Blizzard to officially communicate on it to be fixed.
Is Overwatch 2 a good video game?
Yes Overwatch 2 is a great video game, we are proud to have given it a rating of 76%. Any good gamer must have played Overwatch 2 at least once in his life, we can even fully consider it as one of the best games of the genre! In short, it is a must and you must try it if you have the opportunity!
Can I play Overwatch 2 with my friends?
Yes, you can play Overwatch 2 multiplayer (online) with your friends! So think about it the next time you have a party at home, it can be a great opportunity to have a great time with your friends and family, while determining who is the best at Overwatch 2!
Is Overwatch 2 available on multiple platforms?
Yes, the game Overwatch 2 is developed to be compatible with PC (Microsoft Windows), PlayStation 4, Xbox One, Nintendo Switch, PlayStation 5 and Xbox Series X|S. It's quite handy to be able to play it on several different consoles, thanks to the Blizzard Entertainment development studio!
Is Overwatch 2 a recent game?
Yes, Overwatch 2 is a recent game, it was launched in most regions on Oct 04th 2022, 1 year 2 months 6 days ago.
Overwatch 2 has been released on PC (Microsoft Windows), PlayStation 4, Xbox One, Nintendo Switch, PlayStation 5 and Xbox Series X|S.
Is there an official website for Overwatch 2?
Yes Overwatch 2 has its own official website! You can find it by clicking here.
Is there a forum on the internet to discuss the game Overwatch 2?
Yes there is a website where Overwatch 2 fans can meet to discuss and exchange content, tips and advice on the game. It's on the Reddit website and you can find this Subreddit by clicking here.
Is Overwatch 2 compatible with VR?
No, Overwatch 2 is not currently compatible with virtual reality, but we hope that one day it will be possible to play it with this new technology!
Does the game Overwatch 2 have other names around the world?
Yes, the game is also known by these names around the world:
Overwatch II
OW2 (Acronym)
Overwatch II (Alternative spelling)
オーバーウォッチ 2 (Japanese title - original)
오버워치 2 (Korean title)

What are similar games to Overwatch 2?
Overwatch 2 is a game similar to Black Squad, Immortal: Unchained, Crackle Cradle, Earth Defense Force: Iron Rain, Wolfenstein: Youngblood, Gene Rain, The Cycle, Rebel Galaxy Outlaw, Void Bastards and PlanetSide Arena, if you liked Overwatch 2, you will surely love this list of games we just mentioned! You can find our dedicated portals by clicking on the name of the games, and make your own opinion very quickly!
×