Now that you've collected enough cotton and iron thread to craft yourself the last pieces of equipment in the farmlands area , it's time to go unlock the next stage of your gear race, opposing yourself to Octavian the Militia Captain, another important boss in V Rising . In this guide we will see where to find it, how to defeat it, and the recipes it unlocks .
Where to find it?
You'll find him in Dunley Stronghold, east of the farmlands . As for the other end-of-biome boss , you will have to cross a whole small instance to climb to the top of the sector and finally meet the guardian of the place. If you don't have all the office research yet , don't hesitate to search the tents, do all the guard packs and loot the few chests lying around. Be careful, a pack is placed to the left of the mob, just before engaging it.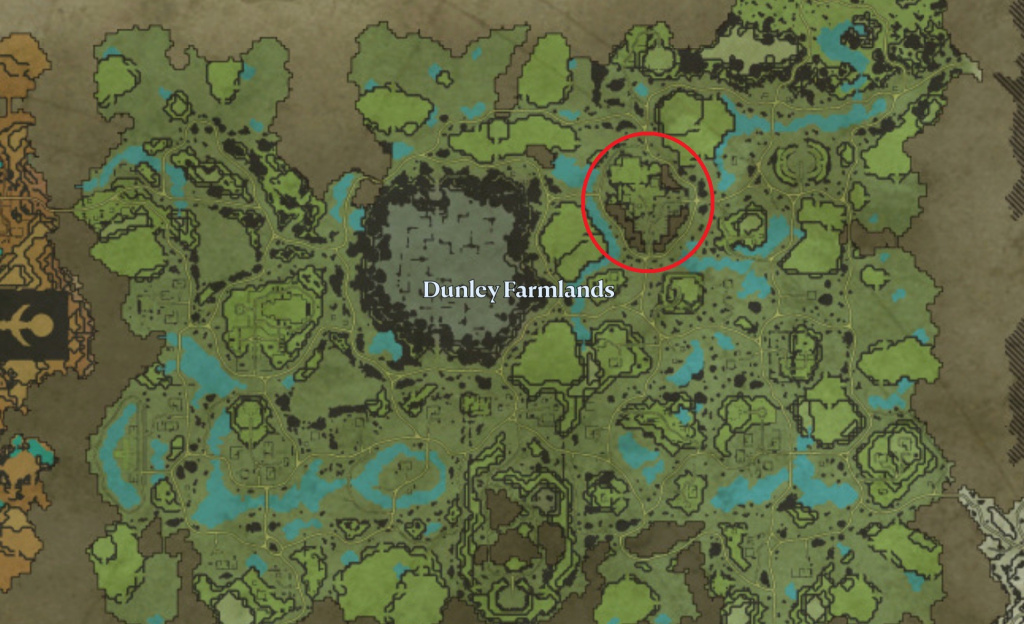 How to beat him?
Be careful to prepare yourself well before engaging in combat. Limit prepare some ferocity and magic damage increase potions beforehand . Along the same lines, a good blood type from prison potions can be a huge plus. Likewise, if you have one of the healing spells in the game, consider having a party member who has it in their build.
The captain has a lot of different attacks available, summoning archers and arsonists at regular intervals. Clean the artificers in priority to be quiet. Octavian also has a giant whirlwind attack that is very long and sends projectiles in all directions. Manage your dashes well, eliminate ad well as soon as their veins are exposed.
To better manage the boss and make him twist, we took him out of his arena to fight him in the village, so the archers had many obstacles to circumvent to try to hit us. We were also able to temporize by sending the commander into the cabbage during his whirlwind of hell: be careful not to take him too far from his arena or risk resetting him.
Recipes unlocked
Able
Workshop
Receipts
dark silver ingot
hawthorn trappings
Dark Silver Weapons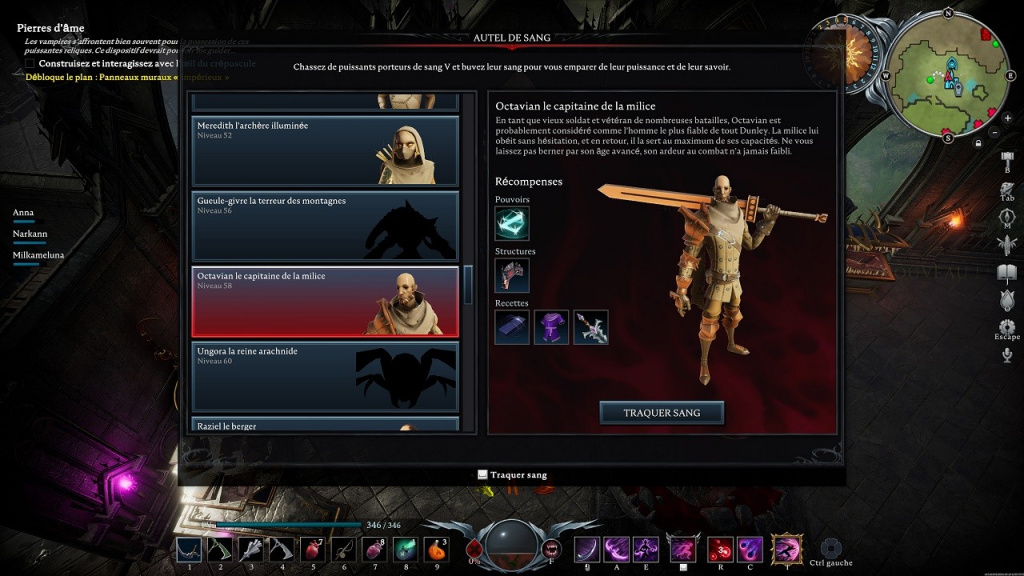 Is V Rising a good video game?
Yes V Rising is a great video game, we are proud to have given it a rating of 76%. Any good gamer must have played V Rising at least once in his life, we can even fully consider it as one of the best games of the genre! In short, it is a must and you must try it if you have the opportunity!
Can I play V Rising with my friends?
Yes, you can play V Rising multiplayer (online) with your friends! So think about it the next time you have a party at home, it can be a great opportunity to have a great time with your friends and family, while determining who is the best at V Rising!
Is V Rising available on multiple platforms?
No, the game V Rising is currently only available on PC (Microsoft Windows). We hope that Stunlock Studios development studio will release the game on other consoles soon, even if nothing is planned for the moment!
Is V Rising a recent game?
Yes, V Rising is a recent game, it was launched in most regions on May 17th 2022, 1 year 4 months 16 days ago.
V Rising has been released on PC (Microsoft Windows).
Is there an official website for V Rising?
Yes V Rising has its own official website! You can find it by clicking here.
Is there a forum on the internet to discuss the game V Rising?
No, according to our information, V Rising does not yet have a forum or subreddit clearly identified to the community. However, it is possible that you can find one by searching on your favorite search engine, which we invite you to do! You can also look at social networks, indeed many groups exist for example on Facebook to allow communities to exchange between enthusiasts.
Is V Rising compatible with VR?
No, V Rising is not currently compatible with virtual reality, but we hope that one day it will be possible to play it with this new technology!
Does the game V Rising have other names around the world?
No, according to our information, there is no other way to name V Rising, or it is very marginal.
What are similar games to V Rising?
V Rising is a game similar to Cyberpunk 2077, Life is Feudal: Your Own, Rising World, Miscreated, Savage Lands, Borderlands 3, Sky Break, Force of Nature, Dude Simulator and Dude Simulator 2, if you liked V Rising, you will surely love this list of games we just mentioned! You can find our dedicated portals by clicking on the name of the games, and make your own opinion very quickly!
×