This will bring some comfort to solo players who have ventured into V Rising . The servant system is a mechanism that will allow you to recover materials over time thanks to soldiers that you will have to equip yourself. There are a few things to know in order to fully understand all the ins and outs of managing your army of minions, we tell you everything in this guide.
Recipes to know
Eventually you will need to have a room dedicated to servants, but you may not have the floor recipe right away: it is unlocked thanks to the research present in the second office. So there are 3 recipes to remember to start managing your troops.
Servant coffin
Castle throne
Crypt floor
As you can see you will need Unsullied hearts to craft the superior Blood Essences, unless you have already eaten Tristan the Vampire Hunter and obtained his valuable recipe.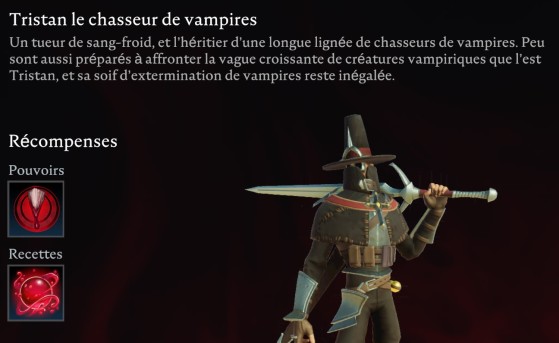 How to recruit a minion
You need the vampiric form of domination unlocked during the main quest . Once your servant's coffin is placed in the castle, go in search of prey. As for the prisoners, take a high percentage of blood class if you can, then attack the human of your desires until he ends up with a small percentage of life then make the R in form of domination to launch a magic projectile that will begin to charm him . You have to wait a little while for the conversion, but once a purple signal is above the enemy's head, he will follow you to the end of the world.Be careful, the bewitched person is likely to die on the way, try to take people near your castle, or have an escort over longer distances.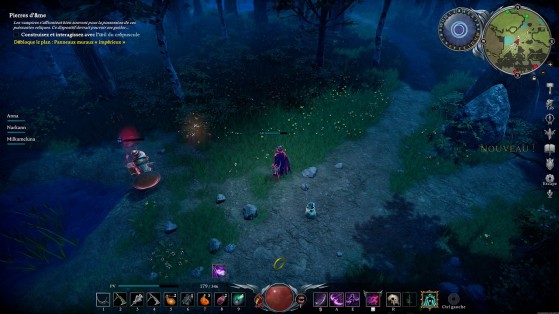 Coffin: conversion and management
At the time of conversion, you will see a summary of the characteristics of your capture at the time of installing it in the coffin. As you can see just below, each minion has 3 characteristics to take into account :
The class gives a bonus that will improve the effectiveness of this minion in certain types of hunts.
The quality of the blood determines the servant's expertise.
The faction delimits the perimeter in which your servant will be able to operate.
Once the conversion has been validated thanks to blood essences , it will take 1h30 for your minion to be exploitable, or 45 minutes if you manage to put them in a crypt room.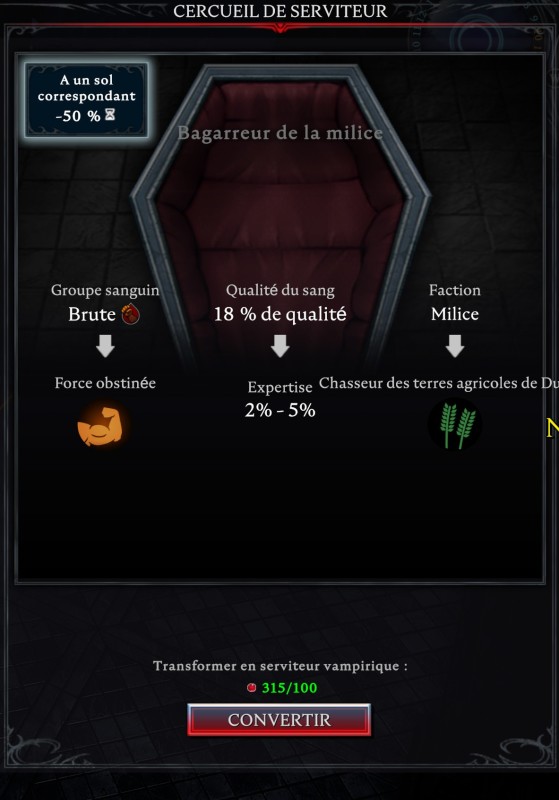 Using minions
Before sending your troops to the pipe breaker, make sure they are well equipped. When they are not on missions, your guards roam the castle , attacking any deer that passes their perimeter (remember to lock the doors to the servants to prevent them from leaving your domain). By providing them with everything they need, their power will greatly increase, greatly improving the chances of victory. Now it's time to complete your mission and sit on the throne to send your minions to roam the different areas in search of resources .
A new screen appears once your butt vampiric is placed: the map is displayed and you can select farm spots in which to send your minions. By selecting a minion for one of them, you'll get a full recap of what they can find on an expedition and their chances of survival. A ruler determines the time the soldier will take to accomplish his task: the further to the left, the faster it is, but the greater the chances of seeing him return wounded and without object. If a minion dies on a mission, you will have the option of resurrecting them with blood essences.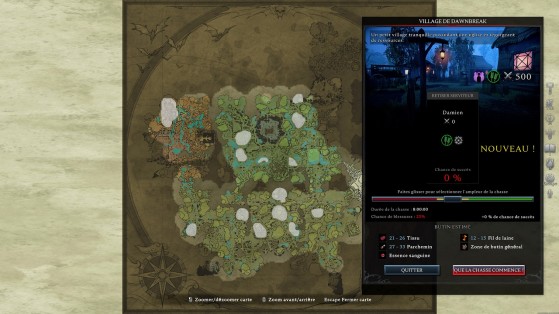 Is V Rising a good video game?
Yes V Rising is a great video game, we are proud to have given it a rating of 76%. Any good gamer must have played V Rising at least once in his life, we can even fully consider it as one of the best games of the genre! In short, it is a must and you must try it if you have the opportunity!
Can I play V Rising with my friends?
Yes, you can play V Rising multiplayer (online) with your friends! So think about it the next time you have a party at home, it can be a great opportunity to have a great time with your friends and family, while determining who is the best at V Rising!
Is V Rising available on multiple platforms?
No, the game V Rising is currently only available on PC (Microsoft Windows). We hope that Stunlock Studios development studio will release the game on other consoles soon, even if nothing is planned for the moment!
Is V Rising a recent game?
Yes, V Rising is a recent game, it was launched in most regions on May 17th 2022, 1 year 4 months 16 days ago.
V Rising has been released on PC (Microsoft Windows).
Is there an official website for V Rising?
Yes V Rising has its own official website! You can find it by clicking here.
Is there a forum on the internet to discuss the game V Rising?
No, according to our information, V Rising does not yet have a forum or subreddit clearly identified to the community. However, it is possible that you can find one by searching on your favorite search engine, which we invite you to do! You can also look at social networks, indeed many groups exist for example on Facebook to allow communities to exchange between enthusiasts.
Is V Rising compatible with VR?
No, V Rising is not currently compatible with virtual reality, but we hope that one day it will be possible to play it with this new technology!
Does the game V Rising have other names around the world?
No, according to our information, there is no other way to name V Rising, or it is very marginal.
What are similar games to V Rising?
V Rising is a game similar to Cyberpunk 2077, Life is Feudal: Your Own, Rising World, Miscreated, Savage Lands, Borderlands 3, Sky Break, Force of Nature, Dude Simulator and Dude Simulator 2, if you liked V Rising, you will surely love this list of games we just mentioned! You can find our dedicated portals by clicking on the name of the games, and make your own opinion very quickly!
×